HOME
|
The Official Gefen Publishing House Website -
One Stop Webstore for Jewish Books and Hebrew Studies Textbooks From Israel
|
Join Email
List
|
Contact
us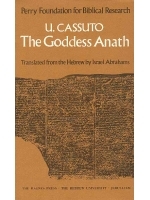 The Goddess Anath Canaanite Epics on the Patriarchal Age
Perry Foundation for Biblical Research (Texts, Hebrew Translation, Commentary and Introduction)
Author:
Umberto Cassuto
Publisher: The Hebrew University Magnes Press
Price: $47.50
Buy from Gefen for this special price!
Format:
Hard Cover
ISBN 10:
9652234826
Catalog Number:
9652234826
Number of Pages:
206
Year Published:
1997
Description:
CASSUTO (1883-1951), one of the greatest Bible scholars and Jewish historians of his generation, was also a pioneer in the field of Ugaritic-scholarship. His book The Goddess Anath is a classic of its kind. It was first published in Hebrew by the Bilalik Institute in 1951, reprinted in 1953, 1958, and 1965, and appears now in the English translation of Prof. ABRAHAMS (reprint 2009).
The book contains three parts a) An introduction to Ugaritic literature that is based on the texts discovered (up to 1951) at the Ras-Shamra, in general, and on the epic of Baal in particular. b) Some Ugaritic tablets containing episodes from the epic of Baal, in which the Goddess Anath plays an important role. These texts appear in three parallel columns: the first gives a transcription of the Ugaritic text in Latin characters, the second contains Cassutoís Hebrew translation, and the third comprises the English rendering. c) A commentary on these texts.
This work also sheds invaluable light on important and hitherto unexplained linguistic usages in the Bible, while the authorís brilliant methodology will serve as an enduring beacon of light to many generations of researchers.