HOME
|
The Official Gefen Publishing House Website -
One Stop Webstore for Jewish Books and Hebrew Studies Textbooks From Israel
|
Join Email
List
|
Contact
us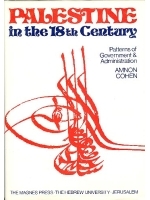 Palestine in the 18th Century

Patterns of Government and Administration
Author:
Amnon Cohen
Publisher: The Hebrew University Magnes Press
Price: $38.50
Buy from Gefen for this special price!
Format:
Hard Cover
ISBN 10:
9652234834
Catalog Number:
9652234834
Number of Pages:
360
Year Published:
1973
Description:
Napoleon's defeat at Acre in 1799 is one of the best known episodes of recent world history. The significance of this event – usually seen only within its European or Ottoman context – in this historic development of Palestine itself is seldom recognized. The various processes which led to this turning point in Palestine are described and analyzed here for the first time. The book is based mainly on the rich contemporary evidence left by the Ottoman administrators and French consular agents in Palestine. It unfolds the story of the rise and fall of the local Arab potentate, Dahir al-Umar, and his sucessor, the ruthless Turkish governor, Jezzar Ahmed Pasha. The book also describes the many facets of 18th century life in the area – internal political and military strife, the intricate relationship between the Ottoman State and its provinces, administrative institutions and their special local features, and the development of trade with Europe. It was in this period that the first seeds of Westernization were sown in Palestine and in the Middle East.