HOME
|
The Official Gefen Publishing House Website -
One Stop Webstore for Jewish Books and Hebrew Studies Textbooks From Israel
|
Join Email
List
|
Contact
us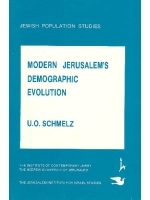 Modern Jerusalemís Demographic Evolution
Author:
U.O. Schmelz
Publisher: The Hebrew University Magnes Press
Price: $15.60
Buy from Gefen for this special price!
Format:
Paperback
Catalog Number:
1686577
Number of Pages:
138
Year Published:
1987
Description:
The work presents an account of modern Jerusalemís demographic evolution and a description of the cityís socio-demographic profile at present. The demographic evolution will be traced back succinctly for about 150 years. The last two decades, since the reunification, is treated more intensively. The enormous contrast between the conditions that existed in the mid-19th century at the threshold of modernization, and those prevailing in contemporary Jerusalem, as residents and visitors can experience and study them, should convey an inkling of the progress made. This progress was not achieved by constructing a completely new city Ė as in the case of Tel-Aviv and many other places in Israel and elsewhere Ė but by the more intricate processes of reforming a historic and in this instance even a holy city, and developing it through additions of large areas and the innovations of modern life.