HOME
|
The Official Gefen Publishing House Website -
One Stop Webstore for Jewish Books and Hebrew Studies Textbooks From Israel
|
Join Email
List
|
Contact
us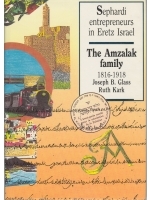 Israel Studies in Historical Geography, Sephardi Entrepreneurs in Eretz Israel
The Amzalak Family 1816–1918
Authors:
Joseph B. Glass
Ruth Kark
Publisher: The Hebrew University Magnes Press
Price: $38.50
Buy from Gefen for this special price!
Format:
Hard Cover
ISBN 10:
9652237515
Number of Pages:
202
Year Published:
1990
Reviews:
This volume outlines the general frameworks of the middle eastern entrepreneur class, the Sephardi elite and political developments in the Ottoman empire and Palestine. It traces each generation of the Amzalak family, from Joseph Amzalak s arrival to their exodus as a result of World War I, highlighting the family s more prominent members. This family biography may be viewed as a vignette of the social and economic processes in Palestine and the Middle East in the nineteenth century.