HOME
|
The Official Gefen Publishing House Website -
One Stop Webstore for Jewish Books and Hebrew Studies Textbooks From Israel
|
Join Email
List
|
Contact
us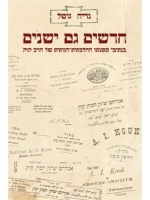 Innovation in Tradition
The Halakhic -Philosophical Teachings of Rabbi Kook (Hebrew)
Author:
Neria Gutel
Publisher: The Hebrew University Magnes Press
Price: $30.80
Special Price: $27.90
Buy from Gefen for this special price!
Format:
Hard Cover
ISBN 10:
9654932059
ISBN 13:
9654932059
Catalog Number:
9654932059
Number of Pages:
310
Year Published:
2005
Description:
This book seeks to re-examine the question of whether, indeed, Rav Kook's halakhic teachings lack originality and innovation; whether the two worlds of Rav Kook – the philosophical and the halakhic – are truly contradictory; whether those who maintain this position are correct in neglecting Rav Kook's halakhic heritage.
The discussion here focuses on the nature of the philosophical and ideological considerations that find expression in his halakhic teachings. The type of considerations to be examined is called "meta-halakhic" or "extra-halakhic"; this term is defined in relation to the accepted conceptual framework and boundaries of halakha.