HOME
|
The Official Gefen Publishing House Website -
One Stop Webstore for Jewish Books and Hebrew Studies Textbooks From Israel
|
Join Email
List
|
Contact
us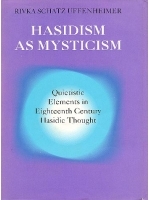 Hasidism as Mysticism
Quietistic Elements in Eighteenth Century Hasidic Thought
Author:
Rivka Shatz Uffenheimer
Publisher: The Hebrew University Magnes Press
Price: $73.30
Buy from Gefen for this special price!
Format:
Hard Cover
ISBN 10:
0691032238
Catalog Number:
691032238
Number of Pages:
400
Year Published:
1993
Description:
Offered here for the first time in English translation, Hasidism as Mysticism is a classic in its field. Using the tools of phenomenology, Rivka Schatz Uffenheimer places Hasidism squarely in the context of religious studies. Hasidismís theoretical texts have been largely ignored by historians of the movement, but Shatz Uffenheimer analyzes these materials fully, disclosing the mystical, quietistic tendencies that existed alongside Hasidismís more activist popular elements. The author carefully reviewed this translation of her work: it includes a revised introduction with new material, two new chapters, and an appendix containing a translation, history and literary analysis of one of the few extant texts attributed to the Baíal Shem Tov.