HOME
|
The Official Gefen Publishing House Website -
One Stop Webstore for Jewish Books and Hebrew Studies Textbooks From Israel
|
Join Email
List
|
Contact
us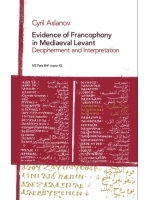 Evidence Of Francophony In Mediaeval Levant
Decipherment and Interpretation
Author:
Cyril Aslanov
Publisher: The Hebrew University Magnes Press
Price: $53.20
Buy from Gefen for this special price!
Format:
Paperback
ISBN 10:
9654932172
Number of Pages:
230
Year Published:
2006
Description:
This study is an annotated edition and commentary of an Arabic-Old French phrase book found on the last thirteen pages of a Coptic lexicographic treatise compiled in the thirteenth century and recopied in the sixteenth century (MS. BnF Copte 53). The main value of this work is two-fold: first, it is a specimen of the Crusader Old French, of which little has been preserved; and second, it provides evidence for the vernacular language of the period. In the analysis of the material, an attempt has been made to reconstruct from a diachronic-diatopic perspective the vernacular French spoken at Acre in the mid-thirteenth century. This volume will be of interest for Romance linguists and philologists, as well as historians of the Crusades and the Latin East. Arabists and historians of the late medieval Muslim Middle East of this time will also find much of use in this work.
Cyril Aslanov is Associate Professor of French and Romance Linguistics
at the Hebrew University of Jerusalem. He has published a book on André Chouraquiís translation of the Bible (Pour comprendre la Bible: la leçon díAndré Chouraqui, Monaco: Éditions du Rocher, 1999) and a monograph on Joseph Kaspiís Sefer Šaršot ha-Kesef (Le provençal des Juifs et líhébreu en Provence: le dictionnaire Šaršot ha-Kesef de Joseph Caspi, Leuven: Peeters, 2002).