HOME
|
The Official Gefen Publishing House Website -
One Stop Webstore for Jewish Books and Hebrew Studies Textbooks From Israel
|
Join Email
List
|
Contact
us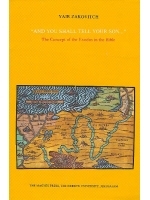 "And You Shall Tell Your Son...

The Concept of the Exodus in the Bible
Author:
Yair Zakovitch
Publisher: The Hebrew University Magnes Press
Price: $20.00
Special Price: $14.50
Buy from Gefen for this special price!
Format:
Hard Cover
ISBN 10:
9652237809
Catalog Number:
9652237809
Number of Pages:
144
Year Published:
1991
Description:
The Exodus, the central event in the historiography of the Bible and in the collective memory of the biblical period, represents an historical watershed; it shapes the recounting of events both before and after it. In this book, the influence of the Exodus tradition on the ideological – literary shaping of the biblical historiography is investigated, with particular attention paid to such questions as: Why were the Israelites enslaved in Egypt? Why did the Exodus traditions take on such enormous dimensions in the Bible? How is this phenomenon related to the separatism promoted as ideal in the Hebrew Scriptures?