HOME
|
The Official Gefen Publishing House Website -
One Stop Webstore for Jewish Books and Hebrew Studies Textbooks From Israel
|
Join Email
List
|
Contact
us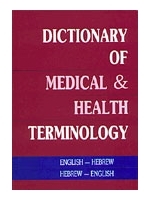 Price in Israel NIS 200
Dictionary of Medical & Health Terminology
English-Hebrew / Hebrew-English
Author:
Freier Feingold
Price: $68.00
Special Price: $56.00
Buy from Gefen for this special price!
Format:
Hard Cover
Catalog Number:
D-627
Number of Pages:
436
Description:
If you are a student, or a medical professional that recently made Aliya or is planning to come to live in Israel soon, you may qualify for a discount for this dictionary. If, after you arrive, you are planing on attending the Medical Ulpan in Jerusalem, where you learn Hebrew in a course specifically designed for medical professionals you may be able to get a discount on this and other books by placing an order with the rest of your class. Send an email to Israbook Special Orders Department for details.
The Dictionary of Medical & Health Terminology includes common-usage terms for every entry as well as the formally correct academic Hebrew translation. This user friendly eidtion is both comprehensive and up-to-date. Useful for every level of medical and paramedical personnel, students and teachers of life sciences.
Reviews:
When comparing this dictionary to the Academy of Hebrew Language Dictionary of Medical Terms, its important to note that the Academy of Hebrew Language Dictionary is menukad whereas this hardbac edition is not.
However, this hardback edition seems to be arranged more logically, has more translations, and is more practical. I like that if offers the correct as well as common translations. This is helpful because one will be used in everyday conversation, but the other will be printed in journals and literature. If any wants to know why the difference, I think that sums it up. I would recommend the hardback one.
Noa Hirsch
Nursing Student
Jerusalem