HOME
|
The Official Gefen Publishing House Website -
One Stop Webstore for Jewish Books and Hebrew Studies Textbooks From Israel
|
Join Email
List
|
Contact
us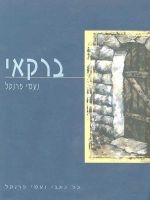 Barkai
Author:
Naomi Frenkel
Publisher: Gefen Publishing House
Price: $18.95
Buy from Gefen for this special price!
Format:
Paperback
ISBN 10:
9652292095
Catalog Number:
209-5
Number of Pages:
320
Description:
This thrilling historical novel tells the story of a Sephardi family in Hebron. The father of the family was raised as a Christian, but came back to Judaism. The story of people torn between forced Christianity and persecuted Judaism, between hope of the renascence and faithfulness to their tradition, between adjusting to a new land and longing to the homeland that turned its back to them, and above all – their hope for salvation in Eretz Israel. (Aso available in Hardback).