HOME
|
The Official Gefen Publishing House Website -
One Stop Webstore for Jewish Books and Hebrew Studies Textbooks From Israel
|
Join Email
List
|
Contact
us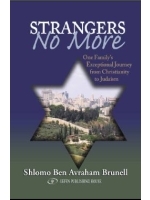 Strangers No More
One Familys Exceptional Journey
Author:
Shlomo Ben Avraham Brunell
Publisher: Gefen Publishing House
Price: $12.95
Buy from Gefen for this special price!
Format:
Paperback
ISBN 10:
9652293040
ISBN 13:
9789652293046
Catalog Number:
304-0
Number of Pages:
152
Year Published:
2005
Description:
In his new book, Strangers No More: One Familys Exceptional Journey from Christianity to Judaism, Brunell reveals the personal account of his wife and children, as they embark on the journey of a lifetime he explains why he chose to walk down a different path, from a privileged and comfortable one - for something so difficult and different. He believes that by sharing his experiences, he will help others realize and rediscover the preciousness and uniqueness of Judaism.