HOME
|
The Official Gefen Publishing House Website -
One Stop Webstore for Jewish Books and Hebrew Studies Textbooks From Israel
|
Join Email
List
|
Contact
us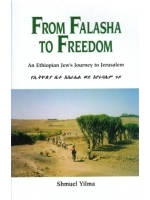 From Falasha to Freedom
An Ethiopian Jews Journey to Jerusalem Reprinted 2005
Author:
Shmuel Yilma
Publisher: Gefen Publishing House
Price: $12.95
Buy from Gefen for this special price!
Format:
Paperback
ISBN 10:
9652291692
ISBN 13:
978-9652291691
Catalog Number:
9789652291691
Number of Pages:
112
Year Published:
1996
Description:
From the Back Cover
"From Falasha to Freedom" is an autobiographical saga of one of the pioneers of "Operation Moses" and the Ethiopian community's integration into Israeli society.
Falasha, defined as "stranger" or "landless", was used as a derogatory name for Ethiopian Jewry.
Shmuel Yilma was born in 1968, the second of seven children, in an agricultural village of approximately thirty families. Together with his family, he was among the first Jews to leave Ethiopia via Sudan in March 1980, opening up what was to become "Operation Moses".
Upon arrival in Israel at the age of eleven, armed with only a meager education and no prior knowledge of Hebrew, Shmuel graduated with full academic matriculation, earning a BA in Educational Administration and is currently studying towards an MA in Educational Counseling. He joined Israel's elite Paratroop Regiment where he became the second Ethiopian to win officer's epaulets. In recognition of his exemplary service as Head of Reconnaissance Training, he won the Commander-in-Chief's Prize – presented to him by Chief of Staff Ehud Barak on Independence Day 1991.
Today, married with a child, Shmuel is the Deputy Director of the Association for the Advancement of the Ethiopian Family and Child in Israel, an agency that strives to ease the culture shock among Ethiopian immigrants, while providing scholastic enrichment and role models for Ethiopian youth.