HOME
|
The Official Gefen Publishing House Website -
One Stop Webstore for Jewish Books and Hebrew Studies Textbooks From Israel
|
Join Email
List
|
Contact
us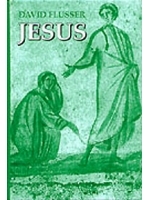 Where's th historical Jesus? Find him here!
Jesus
Author:
David Flusser
Publisher: Gefen Publishing House
Price: $64.40
Special Price: $49.95
Buy from Gefen for this special price!
Format:
Hard Cover
ISBN 10:
965223978X
Catalog Number:
D-630
Number of Pages:
317
Year Published:
2001
Description:
Professor David Flussers biography of the life of Jesus is the fruit of almost fifty years of personal research concerning what may be considered the most well-known figure of the Second Temple Period. His philological-historical approach calls for a reconsideration of how we read the literary sources. He brings to bear the wealth of new information regarding the first-century setting in light of the Dead Sea Scrolls, historical inquiry, and recent archaeological discoveries. What results is a compelling portrait of Jesus which gains additional depth because it is viewed with in the context of Jewish thought and life in the first century. Both Jewish and Christian readers will be challenged by the results of Flussers study.
The present work is based upon Flussers 1968 edition of Jesus. Yet, with the passage of 30 years, the new volume has been essentially rewritten to incorporate the wealth of new data. Whereas the previous book - now out of print - represented the beginnings of Flussers investigation into the historical Jesus, the present volume is its culmination.
The new book is especially significant because Flusser follows the synoptic theory of the late Robert Lindsey. Together Flusser and Lindsey laid the foundations for a school of New Testament research, today known as the Jerusalem School of Synoptic Research. In the first chapter of the book p. 22 Flusser states his intention to apply the methods of literary criticism and Lindsey [synoptic] solution to unlock these ancient sources [i.e., Matthew, Mark and Luke].
At 80, one of the worlds foremost Jewish authorities on the New Testament and early Christianity. In his book Flusser, Professor Emeritus at the Hebrew University in Jerusalem, tells what he has learned in a lifetime of studying the life and teachings of Jesus of Nazareth. Jesus was written by Prof. Flusser in collaboration with his student Dr. R. Steven Notley. Notley is director of the Jerusalem School of Synoptic Research and head of Jerusalem University Colleges New Testament Department.
Table of Contents
Foreword by R. Steven Notley
Preface
Chapter 1: Sources
Chapter 2: Ancestry
Chapter 3: Baptism
Chapter 4: Law
Chapter 5: Love
Chapter 6: Ethics
Chapter 7: The Kingdom of Heaven
Chapter 8: The Son
Chapter 9: The Son of Man
Chapter 10: Jerusalem
Chapter 11: Death
Chapter 12: Epilogue
Supplementary Studies
Chapter 13: The House of David on an Ossuary
Chapter 14: Who is it that Struck You?
Chapter 15: ... To Bury Caiaphas, Not to Praise Him
Chapter 16: What was the Original Meaning of Ecce Homo?
Chapter 17: The Crucified One and the Jews
Chapter 18: Additional Considerations: Jesus Weeps Over Jerusalem
Chapter 19: The Topography and Archaeology of the Passion: A Reconstruction of the Via Dolorosa
by Magen Broshi
Chapter 20: The Stages of Redemption History According to John the Baptist and Jesus
Chronological Table
Bibliography
Index of Sources
Index of Subjects