HOME
|
The Official Gefen Publishing House Website -
One Stop Webstore for Jewish Books and Hebrew Studies Textbooks From Israel
|
Join Email
List
|
Contact
us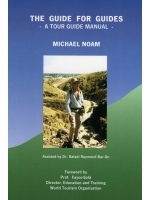 The Guide for Guides – A Tour Guide Manual
Foreword by Prof. Fayos-Solá of the World Tourism Organization
Author:
Michael Noam
Publisher: Gefen Publishing House
Price: $24.95
Special Price: $19.95
Buy from Gefen for this special price!
Format:
Paperback
Catalog Number:
D-712
Number of Pages:
127
Year Published:
1999
Description:
This manual is an indispensable teaching tool for every Guide Training Course, including courses provided by travel agents for guides and couriers. It combines a detailed Methodology with a guiding ideology of furthering a better understanding between nations.
Addressed mainly to tour guides, the principles involved apply equally to town guides and regional guides and guides of special sites. This makes The Guide for Guides also the ideal textbook for training courses run by the Tourist Departments of towns and regions or by museums, parks and other sites.
Even old hands in the guiding profession will find many stimulating ideas, while sociologists and psychologists will be particularly interested in the human relations and cultural aspects. There is a bibliography of over 100 items.
PART I - TOURIST AND TOUR GUIDE
Tourist Expectations and optimal Guide Qualifications.
PART II - THE TOUR AND THE HUMAN ELEMENT
Detailed procedures for preparing the tour and for guiding it from the first encounter with the tourists to the last day Chapters 3-7, with some general techniques discussed in Chapter 8. Particularly valuable are Chapters 9-11 on Human Relations, Bridging the Culture Divide and Thematic Guiding.
PART III - RELATED ACTIVITIES
Deals with Itinerary Construction and Promotion.
From the Introduction
"........ Offering a wealth of information and a variety of specific techniques, The Guide for Guides will be equally useful for students and for professionals working within the sector and needing an understanding of tour guiding issues. Seldom does one meet such full treatment of the subject......."
"........ The Guide for Guides [is] a valuable contribution to the training of quality professionals for quality service in the New Age of Tourism.