HOME
|
The Official Gefen Publishing House Website -
One Stop Webstore for Jewish Books and Hebrew Studies Textbooks From Israel
|
Join Email
List
|
Contact
us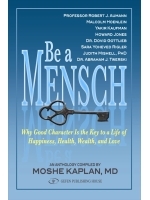 Price in Israel NIS 46
Be A Mensch
Description: Table of Contents
Introduction by Sara Yoheved Rigler, Author of Holy Woman and Lights from Jerusalem
A Truly Holistic Approach by Dr. Abraham J. Twerski
, Founder and Medical Director Emeritus of the Gateway Rehabilitation Center, and the author of over thirty books on personal growth
But Will Good Character Pay My Bills? by Howard Jonas
, Founder and CEO of IDT Corporation
The Cooperative Character by Professor Robert J. Aumann
, Winner of the 2005 Alfred Nobel Memorial Prize in Economic Sciences
Psycho-Neuro-Immunology: Health, Character, and Spirituality – The Science Connecting Body and Mind by Dr. Yakir Kaufman
, Head of Neurology at Herzog Hospital in Jerusalem
The Song of the Soul by Rabbi Dovid Gottlieb
, PhD Former professor of mathematical logic at Johns Hopkins University and senior lecturer of Jewish Philosophy at Ohr Somayach in Jerusalem
Psychological Benefits of Good Character by Judith Mishell
, PhD, Clinical psychologist, author of Beyond Your Ego
The Golden Path: On Being a Mensch by Dr. Moshe Kaplan
, MD, Physician, investment banker, and author of A Wholly Life
Reviews:
"To Be a Mensch addresses a central problem of our times: what is good character, and why should we care about it? We can all see the decline in honest, concern for others, idealism, responsibility for the community and the drive to have a life that makes the world a better place. Historically, religion has been the source of these values. Dr. Moshe Kaplan is continuing this tradition in the present volume by gathering together an all-star group of people with advanced secular education and profound religious commitment.
Their articles explore good character from many perspectives: psychological, economic, philosophical, physical and more. This will provide food for thought and inspiration for those seeking a more meaningful approach to life. I wish Dr. Kaplan and his authors every success in inspiring people to raise their sights and lead more idealistic and meaningful lives."
Bostoner Rebbe
---
Good character is necessary in itself. It is an end and not a means. But this book shows why it is also essential as a means.
Akiva Tatz
, M.D. Author, and Director of the Jerusalem Medical Ethics Forum
---