HOME
|
The Official Gefen Publishing House Website -
One Stop Webstore for Jewish Books and Hebrew Studies Textbooks From Israel
|
Join Email
List
|
Contact
us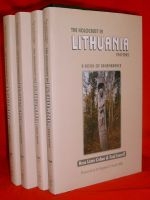 The Holocaust in Lithuania 1941-1945
A Book of Remembrance
Author:
Rose Lerer-Cohen
Publisher: Gefen Publishing House
Price: $300.00
Buy from Gefen for this special price!
Format:
Hard Cover
ISBN 10:
965229280X
ISBN 13:
9789652292803
Catalog Number:
280-X / g280
Number of Pages:
1900
Year Published:
2002
Description:
Following a pilot study, and after consulting with researchers, it became clear that there was no substantive record of the Lithuanian Jews who were murdered during the Holocaust. After five years of research, a comprehensive list of the names of many of the victims, together with an extensive collection of historical resources, has been published in this four-volume set. Additional information in this important publication includes deportation lists; the Yarzheit (memorial dates) of Jewish communities; and the ghetto census lists of Siauliai, the third largest city in Lithuania, as well as a comprehensive and useful reference list of relevant books, articles and films.
Edited and compiled by Saul Issroff