HOME
|
The Official Gefen Publishing House Website -
One Stop Webstore for Jewish Books and Hebrew Studies Textbooks From Israel
|
Join Email
List
|
Contact
us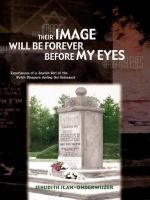 Their Image will be Forever Before My Eyes
Author:
Yehudit Ilan-Onderwijzer
Publisher: Gefen Publishing House
Price: $10.95
Buy from Gefen for this special price!
Format:
Paperback
ISBN 10:
965229294X
ISBN 13:
9789652292940
Number of Pages:
128
Year Published:
2003
Description:
Author Yehudit Ilan grew up in the same neighborhood as Anne Frank, and like Anne, was also imprisoned at Bergen-Belsen. Yet she somehow survived, and has recorded her vivid impressions of these terrible times - a significant contribution to the memory of the Holocaust, and an important insight into the ways in which children in particular coped in such grave and desperate circumstances.