HOME
|
The Official Gefen Publishing House Website -
One Stop Webstore for Jewish Books and Hebrew Studies Textbooks From Israel
|
Join Email
List
|
Contact
us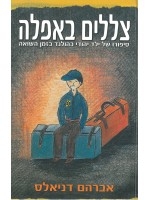 Shadows in Twilight (Hebrew)
Tzelalim Ba-afeila
Author:
Fred Daniels
Publisher: Gefen Publishing House
Price: $8.95
Special Price: $8.00
Buy from Gefen for this special price!
Format:
Hard Cover
ISBN 10:
9652292079
ISBN 13:
9789652292070
Catalog Number:
327-X
Number of Pages:
66
Year Published:
1992
Description:
The true story of a twelve-year-old Jewish boy and his will to survive the horrors of World War II, Shadows in Twilight draws the young reader into the moving, often astonishing adventures of the protagonist as he is forced to face the disturbing reality of the adult world. One cannot help but identify with the authorís dilemmas, joy, sorrow and fear. His heroic courage and endurance will surely inspire todayís youth.