HOME
|
The Official Gefen Publishing House Website -
One Stop Webstore for Jewish Books and Hebrew Studies Textbooks From Israel
|
Join Email
List
|
Contact
us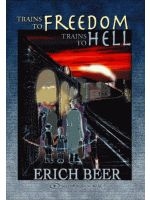 Trains to Freedom Trains to Hell (English)
Author:
Erich Beer
Publisher: Gefen Publishing House
Price: $14.95
Buy from Gefen for this special price!
Format:
Hard Cover
ISBN 10:
9652293318
ISBN 13:
9789652293312
Number of Pages:
224
Year Published:
2005
Description:
Join characters like Bernhard in that split second when he says goodby to his eight-year-old son, sending him off to freedom on a train. Escape near death in the icy waters of Hungary and hide from SS Officers on a blistering winterís eve in deep woods with Rachel and Yankel, as they fight to survive another day. Share the love between Ruth and Beryl, as they reunite in a union of marriage under a chuppa, following the days after Germany is liberated. Fortunate in their misfortune, they find the reserves within themselves not only to physically survive, but also to emerge without hatred in their hearts.
Stories of love and of hate, of fortune and misfortune, of survival and destruction are intertwined, as Beer exposes the hell that was created by human beings in order to annihilate people because of their religion, nationality and political beliefs.
Trains to Hell Trains to Freedom will bring tears to your eyes, love in your heart and shine a fresh light on the darkness that spread across Europe during the most terrible era of the last century.