HOME
|
The Official Gefen Publishing House Website -
One Stop Webstore for Jewish Books and Hebrew Studies Textbooks From Israel
|
Join Email
List
|
Contact
us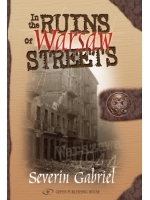 In the Ruins of Warsaw Streets
Author:
Severin Gabriel
Publisher: Gefen Publishing House
Price: $9.95
Buy from Gefen for this special price!
Format:
Paperback
ISBN 10:
9652293350
ISBN 13:
9789652293350
Number of Pages:
128
Year Published:
2005
Description:
In the Ruins of Warsaw Streets is a story of history, tragedy, and heroism that will captivate and move readers of all ages.
The author, born in Puitusk (some fifty kilometers from Warsaw), skillfully and honestly tells of the painful dramas in which he was involved in his youth in Poland during World War II. The true story unfolds of two young Jewish men who took Aryan identities, at the time of the Polish uprising and when Warsaw had been abandoned.
Severin Gabriel, who was in hiding in Warsaw, and who survived with the aid of his brother and of Lady Wanda and other Polish friends, casts a personal light on his life-shattering experiences, which are at once unique and also reminiscent of so many war stories. With poignancy an intimacy, he reenacts his fears and nightmares and those of his comrades in the city besieged by German occupying forces.
In this diary-memoir, the authorís fight to survive during the Polish uprising in the early autumn of 1944, the deportation of the Polish residents of Warsaw at the beginning of October 1944, and events leading up to their return to the ruined city, are given special attention. Little has been written about the period encompassing the deportation and return, and therefore In the Ruins of Warsaw Streets, based on the authorís authentic diary, is of historical value beyond its private significance.
In the Ruins of Warsaw Streets was awarded first prize by the Polish-Canadian Publishing Fund (Toronto, 1991) in an international competition for the documentation of World War II experiences.
The book was originally written in Polish and published in Poland in 1996, under the title W Ruinach Warszawy. In 1994 it was published in Hebrew in Israel. The authorís personal diary has remained in his possession as a memento.
Severin Gabriel currently lives in Israel. In his free time, he plays violin with the Symphonic Orchestra.
Reviews: