HOME
|
The Official Gefen Publishing House Website -
One Stop Webstore for Jewish Books and Hebrew Studies Textbooks From Israel
|
Join Email
List
|
Contact
us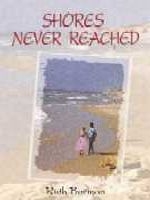 Shores Never Reached
Author:
Ruth Borman
Publisher: Gefen Publishing House
Price: $12.95
Buy from Gefen for this special price!
Format:
Paperback
ISBN 10:
9652293202
ISBN 13:
9789652293206
Number of Pages:
184
Year Published:
2003
Description:
Amid the struggle to build the fledgling state of Israel, Ronni and Gabriel come together, two strong personalities with different ideals and aspirations, sprung from the same Mediterranean culture; two fierce individualists who passionately yearn to be one body and soul; two separate lives that meet for brief, eternal moments. What calamity, they ask in their fervent embrace, could ever divide them?
The beginning of this intense and gripping love story is set in Israel of the 1950s against the background of the historic and thrilling happenings of that first decade of the country's development. Ruth Borman's tenderly written novel spans a period of forty years and probes the sensitive interpersonal relationships between man and woman, posing the question—is true love everlasting?