HOME
|
The Official Gefen Publishing House Website -
One Stop Webstore for Jewish Books and Hebrew Studies Textbooks From Israel
|
Join Email
List
|
Contact
us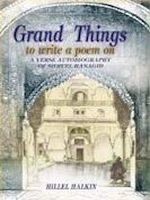 Grand Things to Write a Poem On
A Verse Autobiography of Shmuel Hanagid
Author:
Hillel Halkin (Editor and Translator)
Publisher: Gefen Publishing House
Price: $16.95
Special Price: $14.00
Buy from Gefen for this special price!
Format:
Hard Cover
ISBN 10:
9652291897
ISBN 13:
9789652291899
Catalog Number:
189-7
Number of Pages:
180
Year Published:
1999
Description:
From the Jewish Golden Age of medieval Spain, the author breathes new life into the poems of the famous poet, rabbi and statesman. Topics include God, nature, friendship, love, war and the pains of growing old.