HOME
|
The Official Gefen Publishing House Website -
One Stop Webstore for Jewish Books and Hebrew Studies Textbooks From Israel
|
Join Email
List
|
Contact
us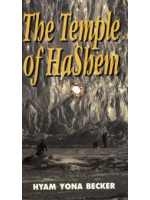 The Temple of Hashem
Author:
Hyam Yona-Becker
Publisher: Gefen Publishing House
Price: $10.95
Special Price: $9.99
Buy from Gefen for this special price!
Format:
Paperback
ISBN 10:
9652291560
ISBN 13:
9789652291561
Number of Pages:
312
Year Published:
1998
Description:
A Jewish science fiction that predicted the future?? Perhaps! The recent killer tsunami that struck Asia, killing close to one hundred thousand people, is one of the largest natural disasters the world has ever seen.
Author, Hyam Yona Becker, wrote of life-threatening tsunamis in his 1997 Science Fiction novel, The Temple of Hashem.
"What happened that bright, sunny morning became known as the 'Cataclysm of the Century'. The major brunt of the tsunami swept across the Indian Ocean with the power of one megaton per square inch at a velocity of two hundred miles per hour."
A landmark in Jewish science fiction! Infused with religious fervor and a sublime sense of humor, Becker introduces us to a world-renowned rabbi, Jewish Eskimo, Russian scientist, and a neurotic American mountain climber in their search for the truth about the Torah.