HOME
|
The Official Gefen Publishing House Website -
One Stop Webstore for Jewish Books and Hebrew Studies Textbooks From Israel
|
Join Email
List
|
Contact
us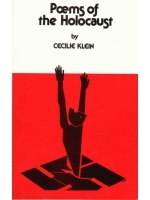 Poems of the Holocaust
Author:
Cecille Klein
Publisher: Gefen Publishing House
Price: $9.95
Buy from Gefen for this special price!
Format:
Paperback
ISBN 10:
965229523X
ISBN 13:
9789652295231
Catalog Number:
9789652295231
Number of Pages:
52
Year Published:
1996
Description:
Poems of the Holocaust is a sensitive reflection through poetry of the savagery and inhumanity of the Holocaust, and a determined faith in humankind.
My poems are a Eulogy to our loved ones, and to all the millions that were so ruthlessly and senselessly killed. Those who have the audacity to deny the atrocities committed against the six million Jews, those are the people who would not hesitate to continue in Hitler's footsteps if they had the power.
We, the survivors, are the very proof to their lies, we are the witnesses to those horrible deeds committed by a so-called 'cultured people' whose tortures surpassed those of the Middle Ages
Dedicated to my family and the six million martyrs
Cecilie Klein
Cecile Klein is also the author of 'Sentenced to Live'