HOME
|
The Official Gefen Publishing House Website -
One Stop Webstore for Jewish Books and Hebrew Studies Textbooks From Israel
|
Join Email
List
|
Contact
us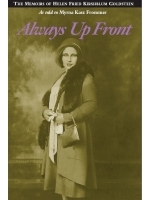 Always Up Front
Helen Fried Kirshblum Goldstein
Author:
Myrna Katz Frommer
Publisher: Gefen Publishing House
Price: $20.00
Buy from Gefen for this special price!
Format:
Hard Cover
ISBN 10:
9652293385
ISBN 13:
9789652293381
Number of Pages:
224
Year Published:
2005
Description:
From the time she followed her big brother to kindergarten and got herself accepted a year ahead of time, Helen Fried Kirshblum Goldstein has pursued her goals with pluck, verve, and determination. In this forthright and engaging memoir, Helen looks through a lens that encompasses most of the last century and moves into the present one, telling the story Always Up Front.
As president of Womens League for Conservative Judaism and a leader in the Jewish organizational world the author encountered such figures as Nelson Rockefeller, Golda Meir, Abraham Heschel, David Ben-Gurion, Teddy Kollek, Arthur Goldberg, Menachem Begin, Elie Wiesel, and involvement in such events as the creation and development of the State of Israel, the Civil Rights Movement, the Feminist Movement and its impact on Conservative Judaism, and open admissions policies in higher education were consequences of that MOVE and are described here with vivid recall.
Helen Fried Kirshblum Goldstein was for many years a speech professor at the City University of New York. She lectured on Jewish observance and culture throughout the United States and was a leading figure in Conservative Judaism. Her endowment of the Helen Fried Kirshblum Goldstein Chair of Practical Rabbinics at the Jewish Theological Seminary of America is her ongoing legacy, pairing her belief in the importance of communication skills with her lifelong commitment to Conservative Judaism.