HOME
|
The Official Gefen Publishing House Website -
One Stop Webstore for Jewish Books and Hebrew Studies Textbooks From Israel
|
Join Email
List
|
Contact
us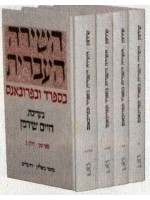 Hebrew Poetry in Spain and Provence (Hebrew)
Hashira Haivrit BeSeapharad Uveprovance
Author:
Jefim Schirmann
Price: $80.00
Special Price: $72.00
Buy from Gefen for this special price!
Format:
Hard Cover
Year Published:
1960
Description:
Hebrew Poetry In Spain And Provence is a magnificent four volume anthology representing a cathedral of Hebrew poetry. Yet, until recently, 35 years after the last edition was published and shortly after sold out, it was possible to buy it only from the second hand book dealers. It has recently been reedited This new edition includes religious poems, love poems, poems dedicated to wine, nature and mysteries and poems of praise and lamentations.
Often they widen reader's sensibility, like the opening verse of Gabirol's famous poem On leaving Saragossa: My tongue cleaves to the root of my mouth / my throat is parched with pleading,/ my heart is loud, my mind confused / with pain and continual grieving./ My sorrow swells and will not bear / sleep's gift to my eyes:/ How long will this rage and yearning / like fire inside me burn? (translated by Peter Cole)
The Hebrew medieval poetry from Spain is colored with the sensuality of language, rhythm and rhyme. It is hard to understand how it was possible that, as opposed to the religious poetry, the secular poems didn't have any previous tradition and that the poets had started to create out of nothing. They were the first ones to put in writing their individual experience, marvelously written, without giving prominence to their personality.