HOME
|
The Official Gefen Publishing House Website -
One Stop Webstore for Jewish Books and Hebrew Studies Textbooks From Israel
|
Join Email
List
|
Contact
us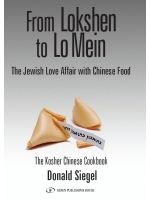 From Lokshen to Lo Mein
The Jewish Love Affair with Chinese Food
Author:
Don Siegel
Publisher: Gefen Publishing House
Price: $19.95
Buy from Gefen for this special price!
Format:
Paperback
ISBN 10:
9652293571
ISBN 13:
9789652293572
Number of Pages:
224
Year Published:
2005
Description:
From Lokshen to Lo Mein is one of three nominees in the 2007 Gourmand World Cookbook Awards!
Some classic Jewish foods are analogous to Chinese versionshence the title, From Lokshen to Lo Mein. Lokshen are Jewish noodles used in many recipes, an analog to Lo Mein noodles used in Chinese cooking.
Along with Don Siegelís favorite Chinese kosher recipes, the author includes some comments on the connection of Jews and Chinese culture, where to get kosher Chinese ingredients, a few jokes about Jews and Chinese food, a short section on what 'kosher' means for those unfamiliar with Jewish dietary laws, and digressions on Chinese cooking techniques and products.
Have fun cooking authentic Chinese dishes while reading interesting topics:



The Evolution of Chinese Cooking


The Jewish Experience in China


The American-Jewish Chinese Connection


The Chinese Kitchen Cabinet


The Drop Dead Tip for Making a Chinese Dinner