HOME
|
The Official Gefen Publishing House Website -
One Stop Webstore for Jewish Books and Hebrew Studies Textbooks From Israel
|
Join Email
List
|
Contact
us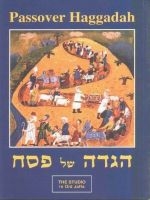 The Meron Haggadah

Author:
Michal Meron
Publisher: Gefen Publishing House
Price: $18.00
Buy from Gefen for this special price!
Format:
Hard Cover
ISBN 10:
9652291757
ISBN 13:
9789652291752
Number of Pages:
70
Year Published:
1997
Description:
This attractive Haggadah, featuring the works of Michal Meron, is a bold and colorful addition to any seder table. Meron, one of Israel's foremost artistic talents, combines her unique creativity with the traditional seder text to create a gorgeous tribute to the festival of Passover. From the ten plagues, to the crossing of the Red Sea, to the joyous conclusion of 'Next Year in Jerusalem', each page features the glorious artwork of Michal Meron, alongside the seder text in both Hebrew and English. Easy to follow, beautifully designed and richly illustrated. The works of Michal Meron have been exhibited in Israel, Europe, Australia, South Africa and the USA, and she has a permanent display in her own gallery in exclusive Old Jaffa.