HOME
|
The Official Gefen Publishing House Website -
One Stop Webstore for Jewish Books and Hebrew Studies Textbooks From Israel
|
Join Email
List
|
Contact
us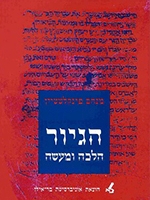 Proselytism: Halakhah and Practice (Hebrew) 
Hagiut Halacha Umaaseh
Author:
Menachem Finkelstein
Price: $45.00
Special Price: $36.00
Buy from Gefen for this special price!
ISBN 13:
9789652265500
Year Published:
2019
Description:
Conversion (giyyur), the way in which a gentile converts to the Jewish faith, has profound legal significance. This book is a comprehensive halakhic and legal research of conversion in Jewish law, and aims to reach a full understanding of its essence. The work encompasses the entire body of halakhic literature and reviews the actual employment of the principles of proselytism as discussed in the Responsa literature.