HOME
|
The Official Gefen Publishing House Website -
One Stop Webstore for Jewish Books and Hebrew Studies Textbooks From Israel
|
Join Email
List
|
Contact
us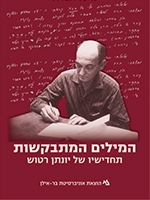 Needed Words: The Lexical Innovations of Yonatan Ratosh (Hebrew) 
Author:
Michal Ephratt
Price: $180.00
Special Price: $144.00
Buy from Gefen for this special price!
ISBN 13:
9789652263117
Year Published:
2010
Description:
Yonatan Ratosh's thousands of lexical innovations are dealt with here from grammatical and semantic viewpoints. A detailed introduction presents theoretical issues concerning lexical innovations, authorship attribution, and Ratosh's lexical enterprise. The book's indices provide listings of the lexical innovations according to their currently used Hebrew terms, multi-lingual counterparts, and their grouping into semantic fields. The book is directed to those interested in the Hebrew language, in Ratosh's lexical enterprise, and anyone in need of a rich resource for lexical innovations.