HOME
|
The Official Gefen Publishing House Website -
One Stop Webstore for Jewish Books and Hebrew Studies Textbooks From Israel
|
Join Email
List
|
Contact
us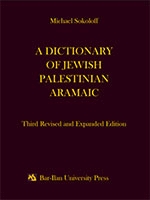 A Dictionary of Jewish Palestinian Aramaic of the Byzantine Period 
Author:
Michael Sokoloff
Price: $180.00
Special Price: $144.00
Buy from Gefen for this special price!
ISBN 13:
9789652264930
Year Published:
2017
Description:
Contains the Aramaic vocabulary of the Jewish literary and epigraphic sources of Eretz Israel from the third century C.E. until the Arab Conquest, including Palestinian Talmud, Midrashim, Targumim, and synagogue inscriptions.