HOME
|
The Official Gefen Publishing House Website -
One Stop Webstore for Jewish Books and Hebrew Studies Textbooks From Israel
|
Join Email
List
|
Contact
us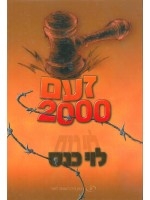 Outrage 2000 (Hebrew)
Zaam 2000
Author:
Levie Kanes
Price: $16.95
Special Price: $14.00
Buy from Gefen for this special price!
Format:
Hard Cover
ISBN 13:
9799652297419
Catalog Number:
741-9
Number of Pages:
166
Year Published:
2014
Description:
This is the Hebrew translation of the 2004 book by Levie Kanes Outrage 2000, a story of unbelievable heroism and survival.
Outrage 2000 was inspired by the libel suit against historian Deborah Lipstadt in January 2000. This trial, covered worldwide for its shocking accusation, forced Lipstadt to prove, once and for all, that Hitlerís ovens and war machine did, in fact, consume millions of Jews during World War II.
Levie Kanes was an infant during the Holocaust and spent World War II in the care of a gentile foster family in Veghel, Holland. Outrage 2000 is Kanesís biography, as well as a documentation of the collaboration of Dutch state institutions, especially the role of the Dutch police, in carrying out Hitlerís plan. But we also learn of the extraordinary and selfless efforts of Father Theo Verhoeven and his network of assistants, who made sure that Kanes and hundreds of other Jewish children remained safe throughout the war.
It is also the tragic tale of the fate of Kaness father, Soli, and the torturous experiences of his mother, Caroline, who survived the experiments of the evil Dr. Josef Mengele in Auschwitz.
Outrage 2000 is Levie Kanesís contribution to preserving the truth and protecting it from manipulators. It is a tale that must be told.