HOME
|
The Official Gefen Publishing House Website -
One Stop Webstore for Jewish Books and Hebrew Studies Textbooks From Israel
|
Join Email
List
|
Contact
us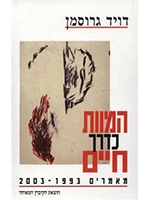 Death as a Way of Life (Hebrew)
Hamot K'Derech Chaim
Author:
David Grossman
Price: $22.00
Special Price: $19.80
Buy from Gefen for this special price!
ISBN 10:
310003958
Catalog Number:
HEB F
Year Published:
2003
Description:
This a a collection of published articles in Hebrew that David Grossman wrote between 1993 and 2003 the decade that begin with the fateful handshake between Yitzchak Rabin and Yassar Araft. As the title indicates, it documents as it tells the story of a disappointing decade, one that started with hope for peace and ended with death as a way of life.