HOME
|
The Official Gefen Publishing House Website -
One Stop Webstore for Jewish Books and Hebrew Studies Textbooks From Israel
|
Join Email
List
|
Contact
us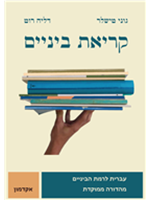 Kriat Beynaim - Intermediate Hebrew Reader
Kriat Beynaim עברית לרמת הביניים הבנת הנקרא ותחביר מהדורה ממוקדת
Authors:
Dalia Roth-Gavison
Goni Tishaler
Price: $35.00
Special Price: $28.00
Buy from Gefen for this special price!
ISBN 13:
9789653501492
Catalog Number:
HEB NF
Number of Pages:
308
Year Published:
2016
Reviews:
Keriyat Beynayim is a collection of Hebrew readings for intermediate level students. It features vocabulary word lists for the readings as well as a glossary at the end with translations into five languages.
מהדורה ממוקדת זו של הספר קריאת ביניים מיועדת לתלמידים הלומדים עברית ברמת הביניים. בספר מובאים טקסטים מתחומים שונים ומסוגות שונות: קטעים אינפורמטיביים, קטעי ביקורת, דיאלוגים, סיפורים, שירים ועוד. בנוסף מובאים הסברים בדקדוק המלווים בתרגילים מסוגים שונים וכן מטלות כתיבה.
התלמיד יכול לרכוש גם תקליטור שמע הכולל קריינות לכל הטקסטים.
בגוף הספר מובא מילון בעברית קלה ולעתים באנגלית. בסוף הספר מופיע מילון בחמש שפות לכל המילים שתורגמו לאנגלית וכן רשימות מילים לטקסטים השונים.