HOME
|
The Official Gefen Publishing House Website -
One Stop Webstore for Jewish Books and Hebrew Studies Textbooks From Israel
|
Join Email
List
|
Contact
us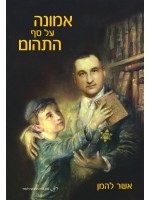 Price in Israel NIS 72
Faith at the Brink (Hebrew)
Emuna Al Saf Tehom
Author:
Oscar M. Lehmann
Price: $24.00
Special Price: $20.00
Buy from Gefen for this special price!
Format:
Hard Cover
ISBN 10:
0-3510229957-1
ISBN 13:
9789652299574
Catalog Number:
957-4
Number of Pages:
382
Year Published:
2018
Description:
In this autobiographical account, the author, a fourth generation descendant of Rabbi Marcus Lehmann (of historical novel fame), relates his pre-War, Holocaust and post-War experiences in Holland, Bergen-Belsen and New York, respectively. In the Judaic sense, this work provides a new dimension to much of recent history and explains how a Torah-true individual evaluated them. This book is guaranteed to expand the readers horizons in our constantly changing world.