HOME
|
The Official Gefen Publishing House Website -
One Stop Webstore for Jewish Books and Hebrew Studies Textbooks From Israel
|
Join Email
List
|
Contact
us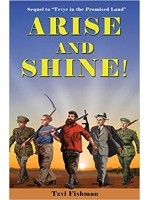 Arise and Shine!
Volume 2 of the Tevye in the Promised Land Series
Author:
Tzvi Fishman
Price: $28.00
Special Price: $22.00
Buy from Gefen for this special price!
Format:
Paperback
ISBN 10:
1724652672
ISBN 13:
9781724652676
Year Published:
2018
Description:
When Rabbi Kook arrives in Jerusalem in 1919, Tevye joins the fanfare at the railway depot to greet him. Rabbi Kook reminds the simple milkman from Anatevka that at this great time in Jewish history, as the Nation of Israel rises to rebirth in its ancient and eternal Homeland, a far greater destiny awaits him. Indeed, when the colony of Tel Hai and its heroic commander, Yosef Trumpeldor, fall under Arab siege, Perchik enlists Tevye to lead a daring rescue mission. When Arab riots break out in Jerusalem, Tevye joins Ze'ev Jabotinsky's group of Jewish defenders, the Haganah, for which he is imprisoned in the infamous Acco Prison. Meanwhile, the ambitious David Ben Gurion is building a powerful worker's union and seizing control of the Yishuv in Palestine. One Pesach Night, Tevye's granddaughter, Hannie, brings a surprise guest to the Seder, a charismatic young man named Avraham Stern, future leader of the "Stern Gang." Angered by their romance, and by Stern's unwillingness to marry the innocent girl, Tevye sends his granddaughter off to live in America with her aunt Baylke, whose husband, Pedhotzer, has become the financial advisor of the notorious Jewish gangsters, Meyer Lansky and Bugsy Siegel. Tevye's grandson, Ben Zion, rejects the sacred traditions of Judaism and abandons Jerusalem to live in Tel Aviv with his communist father, Perchik, who has become Ben Gurion's most ardent disciple. Little by little, the British renounce the Balfour Declaration and encourage the Arabs to declare war against further Jewish settlement. While Rabbi Kook battles for the rights of Jews to pray at the Kotel, the bloodthirsty Arab pogroms of 1929 lead to the widespread slaughter of Jews, including Tevye's daughter, Hava. Grief-struck and exasperated by the official Jewish Agency policy of constraint and appeasement, Tevye decides to strike back singlehandedly, igniting the sparks of a future rebellion which is destined to burst into a towering flame, leading the Jews to Redemption and Independence in their Land. Volume 2 in the Tevye in the Promised Land series.