HOME
|
The Official Gefen Publishing House Website -
One Stop Webstore for Jewish Books and Hebrew Studies Textbooks From Israel
|
Join Email
List
|
Contact
us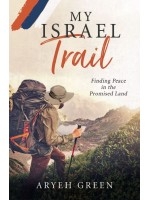 Price in Israel NIS 64
My Israel Trail
Finding Peace in the Promised Land
Author:
Aryeh Green
Price: $20.00
Special Price: $18.00
Buy from Gefen for this special price!
ISBN 10:
1462122019
ISBN 13:
9781462122011
Catalog Number:
D-2011
Number of Pages:
304
Year Published:
2018
Description:
Experience Israel through new eyes as you join Aryeh Green on a 680-mile journey through the promised land. Following a devastating divorce, Aryeh decided to hike the Israel National Trail alone. Along the way, he found healing as he strengthened his relationship with the people, land and state of Israel. This inspiring story shares his descriptions of the stunning places he walked and the myriad breakthroughs he experienced along the way. Aryeh artfully weaves together the lessons learned while hiking which helped him move ahead with his life, based on Jewish and other sources, with a description of the trek itself. A tale of life, love and healing in the land of milk and honey, Aryeh's account is informative, moving, enjoyable and uplifting. A must-read for those who love Israel, are facing personal challenges, or both.