HOME
|
The Official Gefen Publishing House Website -
One Stop Webstore for Jewish Books and Hebrew Studies Textbooks From Israel
|
Join Email
List
|
Contact
us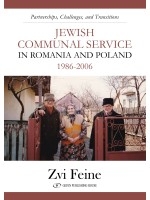 Price in Israel NIS 110
Jewish Communal Service in Romania and Poland 1986-2006
Partnership, Challenges, and Transitions
Author:
Zvi Feine
Price: $39.95
Special Price: $29.96
Buy from Gefen for this special price!
Format:
Hard Cover
ISBN 10:
9652299618
ISBN 13:
9789652299611
Catalog Number:
g961 961-1
Number of Pages:
579
Year Published:
2019
Description:
Dr. Zvi Feine served the Jewish communities of Romania and Poland as country director for the Joint Distribution Community during those two countries' respective transitions from Communist rule. This memoir of his work under the constraints of communism, through the violent December 1989 revolution in Romania and the more peaceful transition in Poland, and in the aftermath of transition to democracy describes the challenges of effective communal service in turbulent times.
The mission of the JDC was to support and partner with the Jewish communities that remained after the devastation of the Holocaust, sustaining the Jews of Eastern Europe with material and communal assistance. Dr. Feine relates poignant and harrowing memories of working under the constant surveillance of the Securitate secret service agency and dealing with the aftermath of the revolution and the resistance to change, all the while navigating a complex and delicate web of history, religious and cultural mores, personalities, ideals, and hopes. Illustrated here are numerous principles of communal work, including the importance of understanding the cultural context, resource and leadership development, and the crucial role that lay leaders can play. Communal workers in the Jewish community and beyond will benefit from Dr. Feine's accumulated wisdom over a lifetime of community service in positions all over the globe.