HOME
|
The Official Gefen Publishing House Website -
One Stop Webstore for Jewish Books and Hebrew Studies Textbooks From Israel
|
Join Email
List
|
Contact
us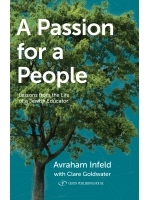 Price in Israel NIS 50 (save 8 Shekels)
A Passion for a People
Lessons from the Life of a Jewish Educator
Author:
Avraham Infeld
Publisher: Gefen Publishing House
Price: $14.95
Special Price: $11.96
Buy from Gefen for this special price!
Format:
Paperback
ISBN 10:
9652299634
ISBN 13:
9789652299635
Catalog Number:
963-5 / g963
Number of Pages:
192
Year Published:
2018
Description:
An engaging and inspiring set of reflections by one of the master educators of today's Jewish world – full of delightful stories, compelling analysis and generosity of spirit. Read it and your faith in the Jewish future will be renewed. –
Rabbi Lord Jonathan Sacks
Avraham Infeld's book takes the reader on a journey through Jewish Peoplehood, that powerful yet intangible idea that connects Jews together, no matter where they live or how they practice. Starting with the core components of Peoplehood, and ending with his ideas about the future of the Jewish People, the book contains powerful messages about how to achieve unity without uniformity in today's global world. Through his trademark stories and accessible messages, Infeld offers Jewish leaders and educators – indeed any interested Jew – the opportunity to engage with ideas that can change the Jewish world.