HOME
|
The Official Gefen Publishing House Website -
One Stop Webstore for Jewish Books and Hebrew Studies Textbooks From Israel
|
Join Email
List
|
Contact
us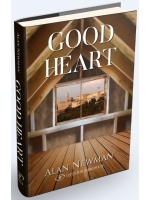 Price in Israel NIS 56 (save NIS 12)
Good Heart
Author:
Alan Newman
Publisher: Gefen Publishing House
Price: $15.95
Special Price: $13.56
Buy from Gefen for this special price!
Format:
Paperback
ISBN 10:
9652299553
ISBN 13:
9789652299550
Catalog Number:
g955 / 955-0
Number of Pages:
256
Year Published:
2018
Description:
Good Heart interweaves the stories of a Jewish family and a Christian family over three generations. Bobby Langford and Danny Baranson lead classic American childhoods together in small-town Indiana in the 1960s and '70s. But any notion that these boys' lives are run-of-the-mill is dispelled when we flash back to the family histories that led them there. As we follow Bobby and Danny's lives through adulthood, characters from vastly different backgrounds are pulled together by twists of destiny, drawing them all to one special place: the land of Israel. Good Heart is embedded with gems of Israel's history and culture, giving nuanced insights through tangible human stories. From an Israeli army base to an Indiana evangelical church, from World War II Austria to the Sudanese desert, exotic locales pepper this adventure with the ultimate discovery that even those who seem worlds apart are all interconnected.