HOME
|
The Official Gefen Publishing House Website -
One Stop Webstore for Jewish Books and Hebrew Studies Textbooks From Israel
|
Join Email
List
|
Contact
us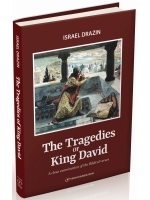 Price in Israel NIS 72 (save nis 18)
The Tragedies of King David
A close emamination of the Biblical verses
Author:
Israel Drazin
Publisher: Gefen Publishing House
Price: $24.95
Special Price: $19.96
Buy from Gefen for this special price!
Format:
Hard Cover
ISBN 10:
9652299294
ISBN 13:
9789652299291
Catalog Number:
g929 / 929-1
Number of Pages:
184
Year Published:
2018
Description:
In this volume of the popular Rational Series, the noted scholar Dr. Israel Drazin continues to look at the life of King David. Focusing on the text of II Samuel and the first two chapters of I Kings, Dr. Drazin carefully examines what the Bible actually states about David when he was king over Judah for some seven years and over the united kingdom of Judah and Israel for some thirty-three years, revealing that David was radically unlike what many think the Bible says about him. We see that David, being human, made mistakes, three of which had substantial consequences that affected the lives of many people: the story of David and Bat-sheva and the murder of her husband together with the troops that were with him, his repeated mistreatment of the northern tribes, and his public census of the people. Significantly, Dr. Drazin leads us to wonder whether the author or editor of the book of Samuel had any knowledge of the laws of the Five Books of Moses.