HOME
|
The Official Gefen Publishing House Website -
One Stop Webstore for Jewish Books and Hebrew Studies Textbooks From Israel
|
Join Email
List
|
Contact
us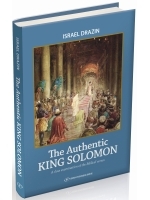 Price in Israel NIS 72 (save nis 18)
The Authentic King Solomon
A Close Examination of Biblical Verses
Author:
Israel Drazin
Publisher: Gefen Publishing House
Price: $24.95
Special Price: $19.96
Buy from Gefen for this special price!
Format:
Hard Cover
ISBN 10:
9652299332
ISBN 13:
9789652299338
Catalog Number:
g933 933-8
Number of Pages:
112
Year Published:
2018
Description:
King Solomon is famous for his wisdom. However, was he really such a wise king? In this book Dr. Israel Drazin delves into the opinions of famous Bible commentators of all religions, examining what the book of Kings has to say about Solomon.
Readers will be prompted to view Solomon in a new light as Dr. Drazin raises many interesting questions about the life of the biblical king.
Was he careful about the needs of the Israelites he ruled, and did he act with wisdom for the benefit of his people, or were his actions governed by self-interest?
How dedicated was he to the building of the First Temple? While the books of Kings and Chronicles seem to say that Solomonís building of the Temple was his greatest achievement, his actions do not reflect this.
Did his seven hundred wives and three hundred concubines lead him into the worship of idols?
Are the stories of Solomon impressing three women good examples of the wisdom that a king should show his nation?