HOME
|
The Official Gefen Publishing House Website -
One Stop Webstore for Jewish Books and Hebrew Studies Textbooks From Israel
|
Join Email
List
|
Contact
us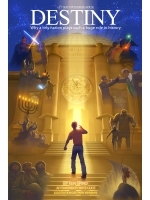 Price in Israel NIS 80 (retail: NIS 85)
Destiny
Why One Tiny Nation Plays Such a Huge Role in History
Author:
Ken Spiro
Publisher: Gefen Publishing House
Price: $21.00
Special Price: $18.00
Buy from Gefen for this special price!
Format:
Paperback
ISBN 10:
965229909X
ISBN 13:
9789652299093
Catalog Number:
909-3
Number of Pages:
320
Year Published:
2017
Description:
Every Hollywood epic follows the same plot outline: a cosmic struggle of good and evil that pits a little hero against a big bad guy (think Luke Skywalker vs. Darth Vader, Frodo Baggins vs. Saruman, Harry Potter vs. Voldemort). The odds are totally stacked against the hero, yet as the story unfolds, his strengths are revealed, and in the final showdown he triumphs. All these movies follow this plot because it is deeply ingrained in our subconscious that this is the way the story is supposed to happen. This may be fiction and fantasy in the movies, but in reality it is the story of the Jewish people and the real plot of human history.
This book walks the reader through the central themes in Jewish history: the impact of Jewish values on civilization, Jewish drive and the disproportionate impact of the Jewish people, antisemitism and its message, the Jewish view of history and conception of time and the End of Days. These themes allow the reader to see the striking parallel between the reality of Jewish history and the universal plot of these epic movies that everyone loves. The metaphor is enhanced with striking fold-out movie storyboards depicting Jewish history in movie form. The reader will come away with an understanding of the unique role and mission of the Jewish people in history and its very special destiny.