HOME
|
The Official Gefen Publishing House Website -
One Stop Webstore for Jewish Books and Hebrew Studies Textbooks From Israel
|
Join Email
List
|
Contact
us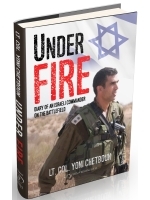 Price In Israel NIS 60
Under Fire
Diary of an Israeli Commander on the battlefield
Author:
Yoni Chetboun
Publisher: Gefen Publishing House
Price: $16.95
Special Price: $16.00
Buy from Gefen for this special price!
Format:
Paperback
ISBN 10:
9652299162
ISBN 13:
9789652299161
Catalog Number:
g916 / 916-1
Number of Pages:
184
Year Published:
2017
Description:
In this story of Israelís struggle against Islamic terror from 1998 to 2008, now available in English for the first time, Lt. Col. (Res.) Yoni Chetboun describes his service as a commander during one of the most complex security periods in the stateís history.
The drama climaxed at the Battle of Bint Jbeil in the 2006 Lebanon War, in which eight soldiers and commanders fell. One was Maj. Roi Klein, who jumped on a grenade to save his soldiers. For his bravery in this battle, Chetboun was awarded a Chief of Staff citation. He relates here the thoughts racing through the mind of a commander under fire who bears responsibility for the lives of his soldiers.
This is a story of personal sacrifice. Chetboun arrived at his own engagement party with camouflage paint still on his face; his new wife was alone while he was in the heart of Ramallah, four meters from PA Chairman Yassir Arafatís office. Yet, avows Chetboun, this is the way it should be: soldiers on the front so that citizens can live peacefully at home. He also articulates a clear vision of the foundational security concepts necessary for defeating fundamentalist terrorism. Incisive and inspirational, this is a must-read for anyone concerned about the world today.