HOME
|
The Official Gefen Publishing House Website -
One Stop Webstore for Jewish Books and Hebrew Studies Textbooks From Israel
|
Join Email
List
|
Contact
us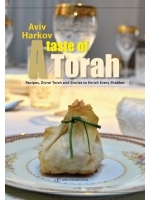 A Taste of Torah
Recipes, Divrei Torah and Stories to Enrich Every Shabbat
Author:
Aviv Harkov
Publisher: Gefen Publishing House
Price: $29.95
Special Price: $22.46
Buy from Gefen for this special price!
Format:
Hard Cover
ISBN 10:
9652296678
ISBN 13:
9789652296672
Catalog Number:
g667 / 667-2
Year Published:
2016
Description:
This unique cookbook offers a weekly portion of great food, divrei Torah, and Jewish stories based on the parashah to enjoy with the whole family. A Taste of Torah allows you to cook up quality time with your kids and shows you how sweet and simple it is to celebrate Shabbat together as a family.
Each parashah includes a gourmet recipe that fits perfectly on an elegant Shabbat table and comes with tips for preparing the dish with your sous chefs (children). Shabbat comes alive when the week's parashah – and the children's own handiwork – is beautifully laid out on the Shabbat table. Each recipe is followed by a dvar Torah for the older children and a bedtime story for the younger ones, based upon the Jewish value taught in that week's dvar Torah. From Beresheit to Vezot Haberachah, A Taste of Torah is brimming with classic Jewish stories and values. A Taste of Torah is the perfect addition to anyone's library or kitchen, as it serves up ancient traditions and values in bite-size servings perfect for sharing with the next generation.
Above all, A Taste of Torah is a recipe for nachas, Shabbat after Shabbat.