HOME
|
The Official Gefen Publishing House Website -
One Stop Webstore for Jewish Books and Hebrew Studies Textbooks From Israel
|
Join Email
List
|
Contact
us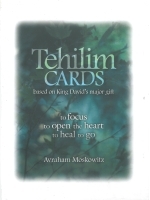 Tehilim Cards (Based on King David's Major Gift)
to focus to pen the heart to heal to go
Author:
Avraham Moskowitz
Price: $132.00
Special Price: $99.00
Buy from Gefen for this special price!
Format:
Hard Cover
ISBN 10:
9655551741
ISBN 13:
9789655551747
Catalog Number:
9789655551747
Number of Pages:
140
Year Published:
2005
Description: The Tehilim Cards
a booklet and set of 75 cards enclosed in an attractive slip case.
Feeling stagnant, apathetic, uninspired, even depressed? The Tehilim Cards can wake you from your spiritual lethargy or comfortable plateau, recharging and rejuvenating you to open your heart to allow a deeper and higher connection to enter. The healing concepts in this box come straight from Kind David, the top spiritual therapist, someone who went through a plethora of trials during his life and opened up holy gates, writing as he went along, to provide the means to get spiritually connected. We can use these sage-old means right now.