HOME
|
The Official Gefen Publishing House Website -
One Stop Webstore for Jewish Books and Hebrew Studies Textbooks From Israel
|
Join Email
List
|
Contact
us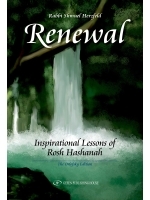 Price in Israel NIS 50
Renewal
Inspirational Lessons of Rosh Hashanah
Author:
Shmuel Herzfeld
Publisher: Gefen Publishing House
Price: $10.95
Special Price: $10.00
Buy from Gefen for this special price!
Format:
Paperback
ISBN 10:
9652298069
ISBN 13:
9789652298065
Catalog Number:
9789652298065 / g806
Number of Pages:
160
Year Published:
2015
Description:
In Renewal: Inspirational Lessons of Rosh Hashanah (the Orlofsky edition), Rabbi Shmuel Herzfeld infuses the Jewish New Year with fresh significance. Rabbi Herzfeld inspires us to seek deep, nourishing relationships with God while affirming that love of God and love of people are fundamentally connected. With his characteristic warmth, Rabbi Herzfeld imparts practical steps to making and maintaining resolutions for personal development. Through exploring the prayers, Torah readings and symbols of Rosh Hashanah, Rabbi Herzfeld demonstrates how this holiday is extraordinarily relevant for us today.