HOME
|
The Official Gefen Publishing House Website -
One Stop Webstore for Jewish Books and Hebrew Studies Textbooks From Israel
|
Join Email
List
|
Contact
us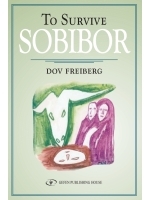 To Survive Sobibor

Author:
Dov Freiberg
Publisher: Gefen Publishing House
Price: $29.95
Buy from Gefen for this special price!
Format:
Hard Cover
ISBN 10:
9652293881
ISBN 13:
978-965-229-388-6
Number of Pages:
624
Year Published:
2007
Description:
Dov Freiberg was only twelve when he was hurled into the crushing events of the German occupation of Poland.
His father was killed by German soldiers in the first days of the war, and his mother fought valiantly to keep her four children fed as the ghetto walls grew more and more constricting. Smuggled out of the Warsaw ghetto, young Dov was soon captured by the Nazis and imprisoned in the living hell of Sobibor death camp, where he witnessed the extermination of his people. One of several hundred inmates to escape during the prisoners' revolt, he began anew his struggle for life in the unfriendly forests of occupied Poland. By the time the Soviet army liberated the region nine long months later, Freiberg found himself the lone survivor of his family.
This is a story of the struggle for survival and for sanity throughout the inhuman experiences of the Holocaust and the postwar years. The author paints a phenomenally detailed picture of an individual life and of the lives of the Jews of Poland before their destruction, during the occupation and the Holocaust, and after liberation by the Soviet army. With its comprehensive description of Sobibor and the prisoners' revolt, this is not only the fascinating memoir of an extraordinary life but also a valuable historical testimony.