HOME
|
The Official Gefen Publishing House Website -
One Stop Webstore for Jewish Books and Hebrew Studies Textbooks From Israel
|
Join Email
List
|
Contact
us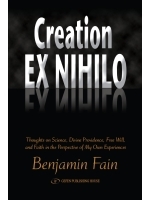 Creation Ex Nihilo
Thoughts on Science, Divine Providence, Free Will, and Faith in the Perspective of My Own Experiences
Author:
Benjamin Fain
Publisher: Gefen Publishing House
Price: $21.95
Special Price: $18.00
Buy from Gefen for this special price!
Format:
Hard Cover
ISBN 10:
9652293997
ISBN 13:
978-965-229-399-2
Number of Pages:
192
Year Published:
2007
Description:
Creation Ex Nihilo is about science and faith, the secular view on the one hand, and the Jewish-religious view on the other.
Professor Benjamin Fain, the renowned physicist and Soviet refusenik, here adds his contribution to the literature showing that there is no contradiction between science and Judaism. In a scholarly yet readable philosophical meditation, Fain addresses the mind and soul; science, its character and cognizance; the evolution of life and divine providence; and Godís omnipotence and omniscience versus humansí freedom of will. Fain demonstrates how the human self with its soul, desires, and emotions is linked to the infinite divine mind. In this world of interplay between divine providence and free will, there is a place for human creativity; new things, including science, are created ex nihilo. This book demonstrates conclusively that not only do science and Judaism not collide, they complement each other in helping us to comprehend the world we live in.