HOME
|
The Official Gefen Publishing House Website -
One Stop Webstore for Jewish Books and Hebrew Studies Textbooks From Israel
|
Join Email
List
|
Contact
us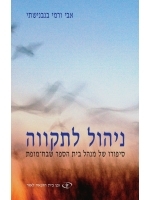 Nihul Latikvah (Hebrew)
The Story of the Shevach-Mofet school principal
Authors:
Avi Benvanishti
Rami Benvanishti
Publisher: Gefen Publishing House
Price: $21.95
Buy from Gefen for this special price!
Format:
Hard Cover
ISBN 10:
9652293938
ISBN 13:
978-9652293930
Number of Pages:
200
Year Published:
2007
Description:
The title, 'Nihul Latikvah' could be translated as 'School Managment for Hope.' This is a Hebrew book telling the success story of the Shevach-Mofet vocational school in Tel-Aviv. While under the helm of it's principal, Avi Benvenisti, Sheva-Mofet achieved high academic standards against all odds.
The tragic story of the 'dolphinarium attack' and it's emotional aftermath affecting many of the students of Shevach-Mofet is also related in this volume.